The Klezmer Rebs come out of winter hibernation with a bear of a concert for the Wellington good folk folkies at Acoustic Routes.
And heads up to to klezmer fans in Auckland who can see the Rebs at the Auckland Folk Festival in Kumeu Auckland Anniversary weekend. Plus just confirmed the Rebs will play for a 7th! time at the Newtown Festival on Sunday 4 March.
In Roseneath, Wellington, on Thursday nite 23 November, the Rebs are back live with a 5 person line-up, with Emma Wollan on accordion and vocals joining Rose piano vocals, David mando/guitar vocals, Rob the bassman and Amanda down from Gisborne on multiple instruments including trombone, helicon and drums.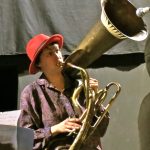 Following a short set at 7.30 by Liz Merton and Tim Barrie the  Rebs will play two sets, featuring music from their latest release Always a Pleasure, Some new tunes will get their first airing, plus old favourites from the Rebs repetoire.
Details
Klezmer Rebs concert at Acoustic Routes Thursday 23 November 7.30 pm
at Roseneath Hall 13 Maida Vale Road, Roseneath $20 at door $15 for members