We are the Klezmer Rebs - Wellington New Zealand's Ethnic and European Band
Wellingtonians, are you ready for some klezmania?
Come see the Klezmer Rebs with overseas guests the London Klezmer Quartet in concert together.
27 January at  St Peter's Village Hall, Paekakariki  Doors open 7.30pm   $20/$15 concession
28 January – Café Meow 9 Edward Street Wellington 8pm  $20 door
29 January  A special Klezmer Workshop and Dance – Temple Sinai 147 Ghuznee St, Wellington 2 – 5pm $30/$20 concession
NOTE: the 29 January date is not a concert (to see us in concert, come to one of the gigs on 27 or 28 January) but a workshop featuring demonstrations of the variety of the klezmer repertoire, an opportunity to play klezmer (bring your instrument!), a chance to learn dances the music was written for, and some background about Yiddishkeit and klezmer culture. Learn and enjoy, while shaking your tuchas!
For further details/bookings contact david.weinstein@klezmer.co.nz or tel 021 077 6069 or book at http://www.undertheradar.co.nz/index.php?task=searchall&q=klezmer+rebs&x=0&y=0
Before you decide to buy (of course you will!) the new Klezmer Rebs CD Always a Pleasure, have a listen to two featured tracks:
Moonlight (Ladino song) is a stunning 7/8 time signature Ladino/English song – Ladino being the Spanish-sounding language of Sephardi Jews who come from the Iberian Peninsula, North Africa and Arabic countries.  Reb Rose sings it beautifully and it features an outstanding solo by our activist/anarchist clarinet player Urs Signer.
Also here's a snippet from the opening track. Josh's Song for the Rebs is an original written for us by our friend Wellington jazz musician Josh Simon and played with a bit of swing. It forms the first part of a medley, but you'll have to get the CD to hear it all.
To order and buy Always a Pleasure, or any of our other Klezmer Rebs CDs, go to CD Order
You can also purchase tracks from our Bandcamp site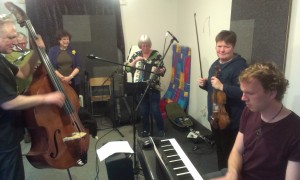 Its a long time since the Klezmer Rebs recorded and released our most recent CD Anarchia Total (2010/11). But finally, in September 2015 the Rebs spent  2 days in Matt Hudson's home studio in Featherston and put down the basic tracks for 10 songs. If they all make it to the final cut, we will have recordings of new originals – Rhubarb (by Heather Elder) and Josh's Song (by Josh Simon); some new songs in our recent repetoire Ladino Song (Moonlight), La Rose Enfloresce, Di Goldene Pave and Flatbush Waltz, and some old faves/classics: Minor Swing, Der Heyser Bulgar, Bei Mir Bist Du Shoen, Odessa Bulgar.  Still lots more to do but a fun project for the summer!
The Klezmer Rebs ethnic music band return for the fourth (and sadly, the last as Bent Horseshoe will be closing soon) time to the wonderful Tokomaru venue the Bent Horseshoe on Saturday 30 May.
Urs Signer our wild Swiss/Kiwi clarinet player will join us when we  play a range of slice-of-life Yiddish klezmer story songs about the 'old country'. You will also enjoy partisan songs from Italy, Russian folk tunes, French chansons, Latin cowboy love songs, Roma / gypsy jams, and English language jazz and 1940s swing vocal songs. Their own quirky, politically charged multi-lingual originals are some of the most popular crowd tunes.
The Klezmer Rebs have been shaking 'tuchases' in Wellington and places north since 2002, recently wowing crowds in Whanganui and Palmerston North's Culture Festivals.
Tickets are $20 for two sets of music and enjoy the wonderful intimate ambiance of the 'Shoe café before Steve gets put out to pasture with the local bovines.
book your tickets at 06-329 8808
Jews Brothers Band Live In Concert with the Klezmer Rebs on 7 May at Newtown Community Centre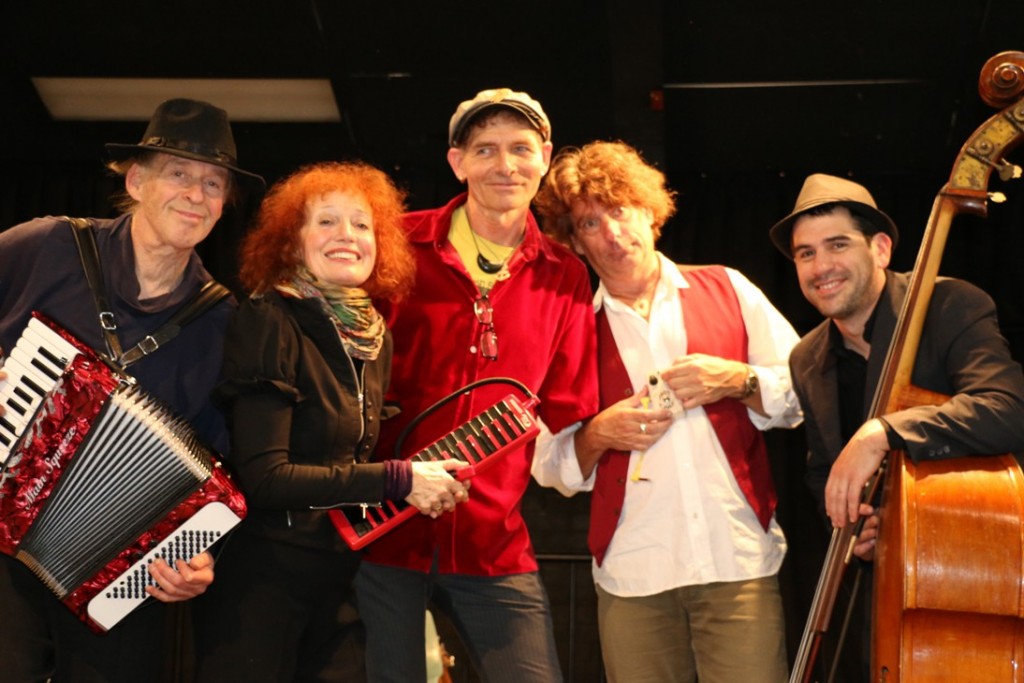 After a 7 year absence from Wellington the fabulous and wacky Jews Brothers Band will be finally performing in Wellington again, with Yiddish cousins the Klezmer Rebs in support.
The Jews Brothers will close their 20th anniversary national tour on Thursday 7 May at Newtown Community and Cultural Centre playing a batch of new songs from their just-recorded CD Up in the Borscht Belt.
The Jews Brothers Band www.jewsbrothers.com
The Jews Brothers Band (JBB) are an all-star band featuring founder and leader, Hershal Hersher on accordion, ace picker Nigel Gavin on mandolin and guitar, Peter Scott on double bass, one-armed saxophonist and percussionist Neill Duncan (ex Six Volts and the Spines) and chanteuse extraordinaire Linn Lorkin on lead vocals and melodica (Linn's song Family at the Beach was voted Best Kiwi Summer Song in a recent New Zealand Radio Listeners' Poll).
JBB created a sensation when it first hit the local scene in early 1995.  What was this sound? And what was this 'klezmer' they were playing? For Brooklyn raised founder and bandleader Hershal, this music was a return to his roots, to the music brought to New York by the Eastern European Jews.
JBB's wild, toe-tapping, hand-clapping repertoire soon had audiences circle-dancing or bopping to the grooves of the 'best swing band in the land'. Expect also gypsy 'hot-club', schmaltzy waltzes and daring vocal harmonies on this 20th anniversary tour of a very special band.
For more on Neill's courageous story of coming back from losing an arm to cancer, see below. Neill is keen to be back on home turf to show his old Wellington mates his chops on his custom made one-handed sax.
Concert details
Who      Jews Brothers Band with Klezmer Rebs
When    7.30pm Thursday 7 May
Where   Newtown Community and Cultural Centre, corner Colombo & Rintoul St. Newtown
Tickets  $30 / $20 unwaged Door sales if seats available.
BOOKINGS ESSENTIAL Just 40 seats left. For bookings email david.weinstein@klezmer.co.nz This concert is sure to sell out in the intimate Newtown Community Centre Theatre so book early to avoid disappointment.
Timing  Doors open 6.45pm to pay for bookings and door sales; 7.30pm Klezmer Rebs; 8.00 pm Jews Brothers Band
Hi Klezmer Rebs supporters
Catch RNZ's DJ Ryan who will be playing a couple of tracks from the Rebs' CD Anarchia Total on Sound Lounge on RNZ Concert Tuesday night 14 October from around 7pm.
If you're interested, you can listen:
on 92.5 FM (in Wellington) 97.3FM (Gisborne) or 91.6 (New Plymouth), OR check your local frequency for Concert FM
online by going to RNZ's home page http://www.radionz.co.nz/concert and clicking on the Listen Live link at the top of the screen.
on Freeview Channel 51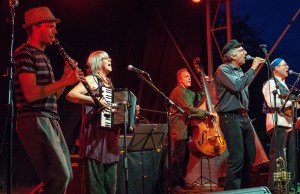 The Klezmer Rebs ethnic music band are coming to Wanganui to perform at the
 Festival of Cultures, Majestic Square on 18 October (12.50 and 2.30pm)
https://www.facebook.com/WhanganuiFestivalCultures
and also at the
Savage Club Rooms, 65 Drews Ave on 17 October at 8pm (doors open 7pm, $10)
Come along in the Square on Saturday 18/10 during the Cultures Festival and/or catch a full concert for just $10 at Savage Club Rooms on Friday 17/10. Guaranteed to get your tuchases shaking.
Come to a fundraiser for the Greens and a hoot of a party featuring Matiu Te Huki, Feva, Klezmer Rebs, Chilli Jam and poet Ali Jacs