Nu? So you want to buy our beautiful new CD Always a Pleasure? Details on how to purchase are below.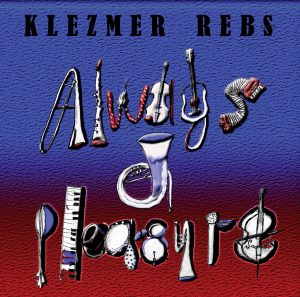 For the beauty and tactile loveliness of physical CD's, you can buy the 11 track Always a Pleasure for NZ$20; Anarchia Total runs 31 minutes and costs NZ $15 and the 45 minute Just add shmaltz is NZ $20 each. There is also a $5 charge for postage.
*Note: if you live in the Wellington area, you can save $5 postage (such a bargain!) by arranging a pick-up or drop off in the CBD – to do so ring/text David on 021 077 6069.
You can also buy digital downloads of the full albums for only US$7.50 each, or individual tracks for US$1  from our Bandcamp site.
NO
ORDER FORM

COST ($NZ)
Klezmer Rebs Always a Pleasure (44 minutes)
$ 20.00
Klezmer Rebs Anarchia Total (31 minutes)
$ 15.00
Klezmer Rebs Just add shmaltz (45 minutes)
$ 20.00
Postage (within NZ)
$  5.00
Postage (if outside of NZ)
$  10.00
TOTAL COST
$________
Please copy this order form and email to david.weinstein@klezmer.co.nz (remembering to include your return postal address) or post to Klezmer Rebs, 8 Reserve Road, Plimmerton 5026.
For payment, either
a) direct deposit the correct amount in Klezmer Rebs
Kiwi bank account no 38 9004 0370827 00
Make sure you include a reference code with your name,
or
b) send cheque payment (make sure you include your return address and order form) made out to Klezmer Rebs to
to: Klezmer Rebs 8 Reserve Rd Plimmerton Porirua City 5026
New Zealand