We are the Klezmer Rebs - Wellington New Zealand's Ethnic and European Band
A Journey through Jewish Klezmer Music – REGISTER NOW for Victoria University Wellington Continuing Education short course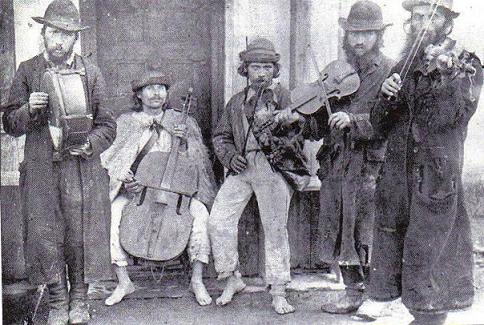 Course overview  Klezmer music originated with the Ashkenazi Jews of central and Eastern Europe from about the 1500s.
This course, taught by Wellington Klezmer Rebs band leader David Weinstein, looks at Klezmer music from historical, cultural, linguistic and musical perspectives.
It includes lecture presentations, audio recordings and live in class performance demonstrations by members of the Klezmer Rebs band. A Klezmer Rebs CD is included in the course fee.
6pm-7:30pm, Mondays 2, 9, 16, 23, 30 March
Fee: $120 (Early Bird Fee $108) – includes a Klezmer Rebs CD
Learn more and register here: http://cce.victoria.ac.nz/courses/288-a-journey-through-jewish-klezmer-music
Zay Gezunt
David Weinstein, Klezmer Rebs band
Happy Hannukah all Rebs listeners
Here are some Klezmer events of interest coming up after all the lights from candles and New Year sparklers go out:
Rebs at Newtown Festival
The Klezmer Rebs return for about their 5th season with the Newtown Festivals – almost an institution (or put us in one).
http://www.newtownfestival.org.nz/klezmer-rebs/
Klezmer Kulture
Those more interested in Klezmer music and Yiddish culture can check out an upcoming course (March 2015) by Reb David and other band members through Victoria University Continuing Education:
http://cce.victoria.ac.nz/courses/288-a-journey-through-jewish-klezmer-music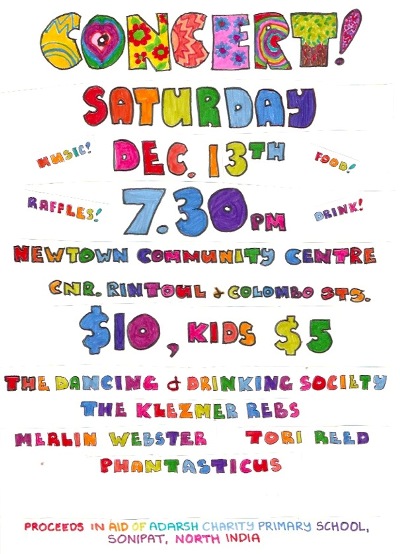 The wonderful Hilary Phillips again gets 5 bands to raise funds for  Adarsh Primary School, Sonipat North India
For just $10 come see The Dancing & Drinking Society, Klezmer Rebs, Merlin Webster, Tori Read, Phantasticus

from 7.30 pm Saturday December 13th
Newtown Community Centre, Rintoul & Colombo Streets, Newtown
come early for the great food!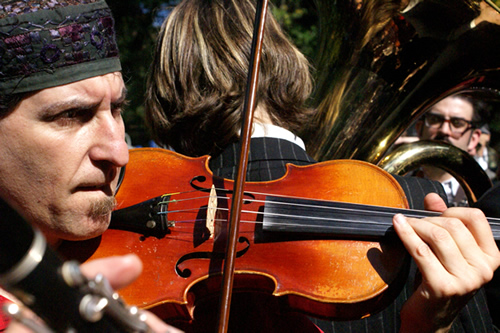 at Temple Sinai, at 7.30 Thursday 18 December
The Wellington Jewish Community Centre and Temple Sinai are delighted to present internationally-acclaimed klezmer artists Yale Strom, Elizabeth Schwartz and Tallulah Strom (with help from the Klezmer Rebs).
For more on Yale Strom check out www.yalestrom.com & /www.voiceofklezmer.com/
Tickets $20 for adults and $12 for children (under 5s free) at the door.
To make a booking contact the Temple Sinai office 385 0720 or email office@sinai.org.nz; or you can pay online by sending a payment to Wellington Progressive Jewish Congregation bank account number 03 0510 0026534 02 – please include with your payment your name and 'Klezmer'. An email confirming receipt of money will be sent out, but no tickets will be sent out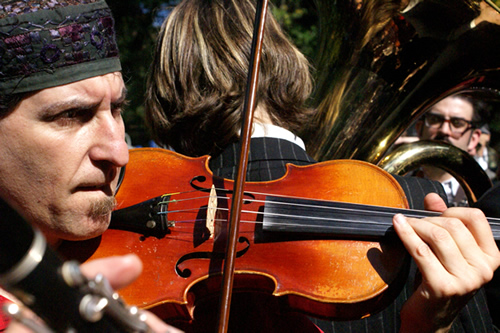 About Yale Strom Violinist, composer, filmmaker, writer, photographer and playwright Yale Strom was a pioneer among revivalists in conducting extensive field research in Central and Eastern Europe and the Balkans among the Jewish and Rom communities. Since he began his first band in 1981, Strom has been composing his own New Jewish music, which combines klezmer with Chasidic nigunim, Roma, jazz, classical, Balkan and Sephardic motifs. He is accompanied by Elizabeth Schwartz, celebrated for her soulful, passionate and penetrating vocals. She has drawn numerous comparisons to both Edith Piaf and Maria Tanase. From her many appearances with Yale Strom & Hot Pstromi and as a solo artist, Schwartz has built a loyal following among fans, critics and collaborators.
For more on Yale Strom check out www.yalestrom.com & /www.voiceofklezmer.com/
About the Klezmer Workshop Yale says: "The workshop will include working on ornamentation and improvisation. We will work on 2-4 different tunes. And what I often do is offer to those students who take the workshop to join on stage to play with us that tune we worked on in the workshop. Elizabeth will work on pronunciation, improv and style/timbre for singing Yiddish songs." Workshop runs 4 – 6pm on Thursday 18 December

Tickets $30. Bookings are essential! Please contact Sue Esterman on sue.esterman@gmail.com or call her on 027 474 2860
Hi Klezmer Rebs supporters
Catch RNZ's DJ Ryan who will be playing a couple of tracks from the Rebs' CD Anarchia Total on Sound Lounge on RNZ Concert Tuesday night 14 October from around 7pm.
If you're interested, you can listen:
on 92.5 FM (in Wellington) 97.3FM (Gisborne) or 91.6 (New Plymouth), OR check your local frequency for Concert FM
online by going to RNZ's home page http://www.radionz.co.nz/concert and clicking on the Listen Live link at the top of the screen.
on Freeview Channel 51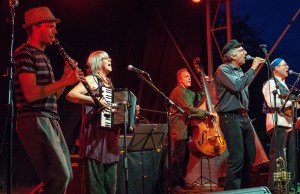 The Klezmer Rebs ethnic music band are coming to Wanganui to perform at the
 Festival of Cultures, Majestic Square on 18 October (12.50 and 2.30pm)
https://www.facebook.com/WhanganuiFestivalCultures
and also at the
Savage Club Rooms, 65 Drews Ave on 17 October at 8pm (doors open 7pm, $10)
Come along in the Square on Saturday 18/10 during the Cultures Festival and/or catch a full concert for just $10 at Savage Club Rooms on Friday 17/10. Guaranteed to get your tuchases shaking.
Come to a fundraiser for the Greens and a hoot of a party featuring Matiu Te Huki, Feva, Klezmer Rebs, Chilli Jam and poet Ali Jacs