We are the Klezmer Rebs - Wellington New Zealand's Ethnic and European Band
Its official. Victoria University Continuing Education is offering a course in Klezmer Music, titled "A Journey Through Jewish Klezmer Music: From the 'Old Country' to modern Klezmer fusion" led by yours truly (Reb David) with help from the other Rebs.
The 6 week course on Tuesday evenings from 1 April (no fooling!)  will look at Klezmer music from historical, cultural, linguistic and musical perspectives. It includes lecture presentations, audio recordings and live performance demonstrations. A Klezmer Rebs CD is included in the course fee.
Click below for more info and to register.
http://cce.victoria.ac.nz/courses/184-a-journey-through-jewish-klezmer-music-from-the-old-country-to-modern-klezmer-fusion
The Klezmer Rebs will have our first public performance of 2014 at the Festival of the Elements in Porirua on 6 February.
http://www.elementsfestival.org.nz/attractions/festival-performers
We will be playing a 1/2 hour set at Pataka's Performing Arts Space from 4.20pm to 4.50 pm. Short but sweet. Free of course. Celebrate Waitangi day in Porirua with the Rebs.
4 – 6 October the Rebs will play for the first time in Dunedin! We play for a private Bat Mitzvah on 5/10 then on Sunday 6th October from 2-3pm we perform at the Toitu Otago Settlers Museum
Lindis Taylor at Middle C (who mainly do classical music reviews) wrote a forthright review of the Rebs' gig at Old St Paul's back in August.
Selected quotes:
"Their frequent style and subject matter, congruent with their name, is revolution, booze, sex and most things in between. For example there's the title song of their latest CD, Anarchia Total, which could well become one of the most alarming projects under the most urgently needed revision of state security measures in the Government Communications Security Bureau and Related Legislation Amendment Bill."
"It was a rousing performance which will doubtless swell the numbers at their training camps."
"The quasi-military character of the squad was emphasized by the expropriation of elements of Royal New Zealand Navy uniform by the trumpeter/vocalist David Moskovitz, viz an officer's hat. But to regain a military/civilian balance, there were other cultural insignia, such as the embroidered skull-cap worn by guitarist David Weinstein and the dresses worn by the women that might have suggested, variously, the hippie era or Bukovinian/Ruthenian peasant dress."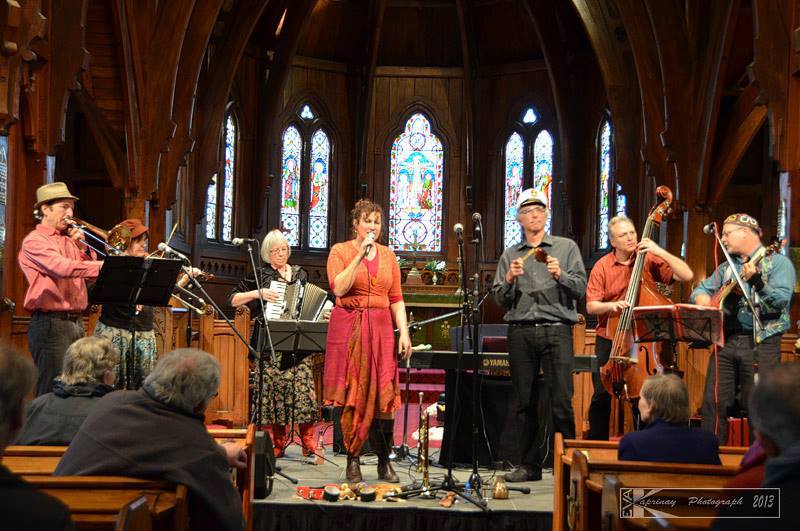 So what about the music?
"The music was in keeping: happy, irreverent, using a variety of boisterously played instruments."
"Rose sang a couple of further songs, some using pretty hand movements, Odessa Bulgar and Bublichki, before there was another urging to debauchery, a striking drinking song composed by Moskovitz and clarinetist Signer, Kumt, kumt, khaverim (Come, come friends)."
"Finally they checked whether there were Russian speakers in the audience; when no hands were raised, "That's good; this is a filthy Russian song"; it was called Zvezda (Star) and when no translation was offered I had to assume that here was the compulsory hymn to sexual licentiousness. At least, the music was pretty risqué."
Thanks Lindis for really listening and thinking about our music. We think you got it.
Read the whole review here http://middle-c.org/2013/08/music-and-revolution-take-stage-at-old-st-pauls/
Adventures in Musicland: Ingathering of the Klezmer Exiles
Klezmer music has its roots in the Ashkenazic Jewish communities of Eastern Europe, who brought its lively melodies to the United States where they melded with new influences like jazz and swing. The sound of Klezmer has since migrated around the world, and a tight-knit band of musicians continues to keep the sound alive in New Zealand. Sam Wicks investigates the enduring appeal of the original shtetl (ghetto) music.
Listen to Sam Wicks' programme on the RNZ National programme Adventures in Musicland: Ingathering of the Klezmer Exiles 4:10 p.m. Saturday, 6 July 2013 and repeated at 8:30pm Friday, 12 July 2013
The programme features interviews with Rebs singer/trumpeteer Dave Moskovitz and mandolin/guitarist David Weinstein, along with Jews Bro Hershel Hersher.
To hear more of the Klezmer Rebs music click here and to order a Rebs CD click here
The Rebs are now resting after a busy period which included 2 weddings, one funeral and 3 festival concerts in the last fortnight! Whew!
http://jackmckenziephotography.com/klezmer-rebs-online-version
Jack McKenzie took some mighty nice snaps of the Rebs at our Friday night concert, which was a hummer! Thanks Jack.
The vibe at the Rothman-Gibson wedding yesterday was amazing.  Reb Dave caught the action in a snap from the stage while he was singing -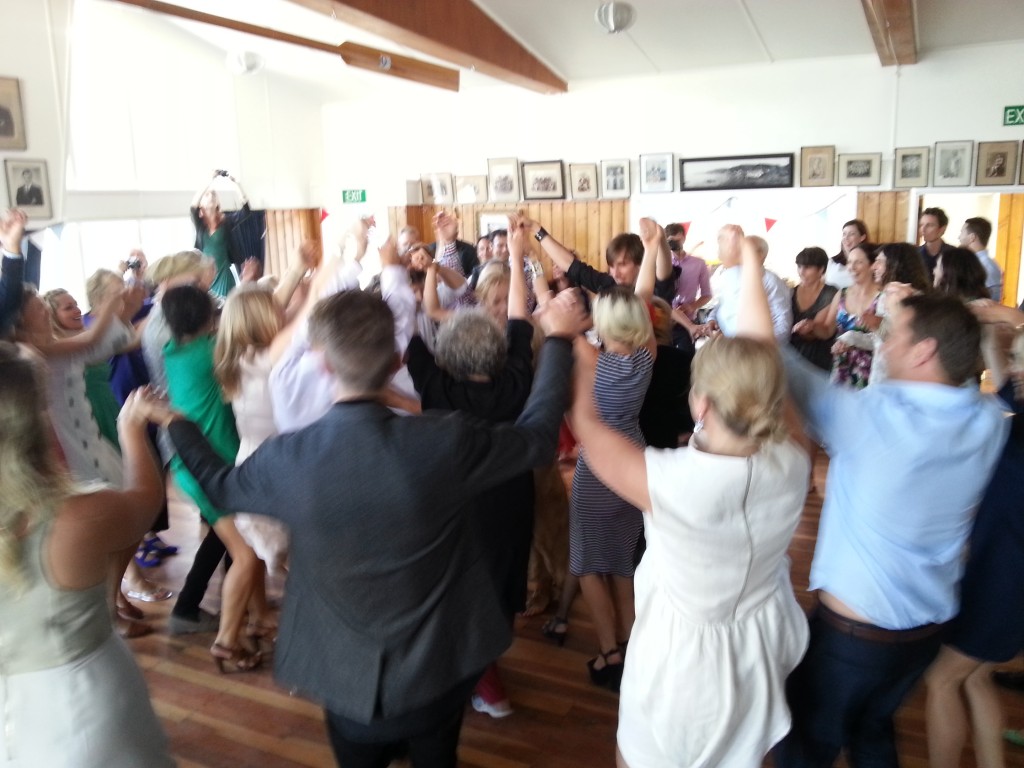 Di Mezinke Oysgegebn
Hekher besser,
Di rod, di rod makht gresser,
Groys hot mikh Got gemakht
Glik hot er mir gebrakht
Hulyet kinder a gantse nakht -
Di mezinke oysgegebn.
Dance higher, better,
Make larger the dance ring,
God has made me great,
Has brought me good fortune:
So party people all night long,
The youngest daughter is wed!
Shtarker, freylakh,
Du di malke, ikh der melekh
Ay ay ay, ikh aleyn
Hob mit mayne oygn gezeyn
Vi Got iz mir matsliah geven -
Di mezinke oysgegebn.
With more might, joyful!
Tonight you are the queen and I the king,
Indeed I myself
Have seen with my own eyes,
How God has given me a bounty;
The youngest daughter is wed!
Itsik shpitsik
Vos shvaygstu mitn shmitshik
Oyf di klezmer gib a geshrey
Tsu shpiln zey tsu shlofn zey
Raysst di strines ale oyf tsvey -
Di mezinke oysgegebn.
Itsik, you pointy headed one,
Why are you so gentle with your bow?
Yell at your musicians,
Are they playing or sleeping?!
Tear those strings apart -
The youngest daughter is wed!