Lindis Taylor at Middle C (who mainly do classical music reviews) wrote a forthright review of the Rebs' gig at Old St Paul's back in August.
Selected quotes:
"Their frequent style and subject matter, congruent with their name, is revolution, booze, sex and most things in between. For example there's the title song of their latest CD, Anarchia Total, which could well become one of the most alarming projects under the most urgently needed revision of state security measures in the Government Communications Security Bureau and Related Legislation Amendment Bill."
"It was a rousing performance which will doubtless swell the numbers at their training camps."
"The quasi-military character of the squad was emphasized by the expropriation of elements of Royal New Zealand Navy uniform by the trumpeter/vocalist David Moskovitz, viz an officer's hat. But to regain a military/civilian balance, there were other cultural insignia, such as the embroidered skull-cap worn by guitarist David Weinstein and the dresses worn by the women that might have suggested, variously, the hippie era or Bukovinian/Ruthenian peasant dress."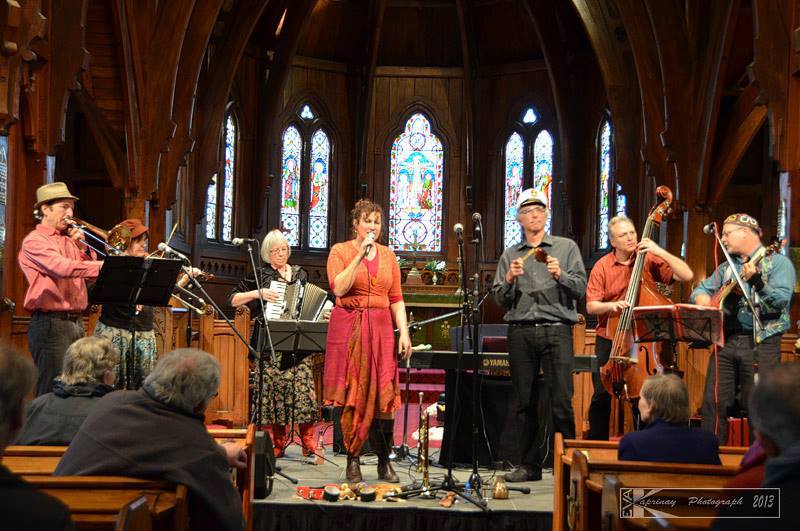 So what about the music?
"The music was in keeping: happy, irreverent, using a variety of boisterously played instruments."
"Rose sang a couple of further songs, some using pretty hand movements, Odessa Bulgar and Bublichki, before there was another urging to debauchery, a striking drinking song composed by Moskovitz and clarinetist Signer, Kumt, kumt, khaverim (Come, come friends)."
"Finally they checked whether there were Russian speakers in the audience; when no hands were raised, "That's good; this is a filthy Russian song"; it was called Zvezda (Star) and when no translation was offered I had to assume that here was the compulsory hymn to sexual licentiousness. At least, the music was pretty risqué."
Thanks Lindis for really listening and thinking about our music. We think you got it.
Read the whole review here http://middle-c.org/2013/08/music-and-revolution-take-stage-at-old-st-pauls/