Jews Brothers Band Live In Concert with the Klezmer Rebs on 7 May at Newtown Community Centre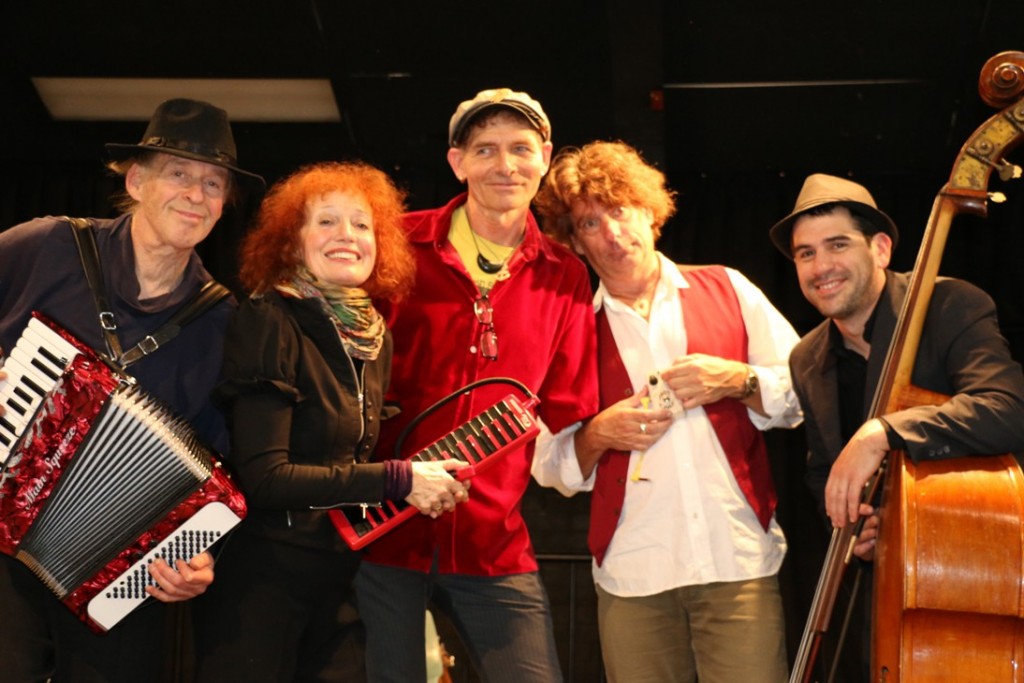 After a 7 year absence from Wellington the fabulous and wacky Jews Brothers Band will be finally performing in Wellington again, with Yiddish cousins the Klezmer Rebs in support.
The Jews Brothers will close their 20th anniversary national tour on Thursday 7 May at Newtown Community and Cultural Centre playing a batch of new songs from their just-recorded CD Up in the Borscht Belt.
The Jews Brothers Band www.jewsbrothers.com
The Jews Brothers Band (JBB) are an all-star band featuring founder and leader, Hershal Hersher on accordion, ace picker Nigel Gavin on mandolin and guitar, Peter Scott on double bass, one-armed saxophonist and percussionist Neill Duncan (ex Six Volts and the Spines) and chanteuse extraordinaire Linn Lorkin on lead vocals and melodica (Linn's song Family at the Beach was voted Best Kiwi Summer Song in a recent New Zealand Radio Listeners' Poll).
JBB created a sensation when it first hit the local scene in early 1995.  What was this sound? And what was this 'klezmer' they were playing? For Brooklyn raised founder and bandleader Hershal, this music was a return to his roots, to the music brought to New York by the Eastern European Jews.
JBB's wild, toe-tapping, hand-clapping repertoire soon had audiences circle-dancing or bopping to the grooves of the 'best swing band in the land'. Expect also gypsy 'hot-club', schmaltzy waltzes and daring vocal harmonies on this 20th anniversary tour of a very special band.
For more on Neill's courageous story of coming back from losing an arm to cancer, see below. Neill is keen to be back on home turf to show his old Wellington mates his chops on his custom made one-handed sax.
Concert details
Who      Jews Brothers Band with Klezmer Rebs
When    7.30pm Thursday 7 May
Where   Newtown Community and Cultural Centre, corner Colombo & Rintoul St. Newtown
Tickets  $30 / $20 unwaged Door sales if seats available.
BOOKINGS ESSENTIAL Just 40 seats left. For bookings email david.weinstein@klezmer.co.nz This concert is sure to sell out in the intimate Newtown Community Centre Theatre so book early to avoid disappointment.
Timing  Doors open 6.45pm to pay for bookings and door sales; 7.30pm Klezmer Rebs; 8.00 pm Jews Brothers Band